Hey guess what guys?! This is my ONE HUNDREDTH post!! Yay! Now if I can only get 100 followers, that would be great. Maybe someday... :)
I was debating on something exciting to do for my 100th post, so I decided I will do a blog award! One of the reasons why I'm still blogging is because I get to read awesome blogs everyday, so I decided to award these awesome blogs!
The award is called the "Your Blog is Awesome Award", and I will choose 5 blogs to receive the award.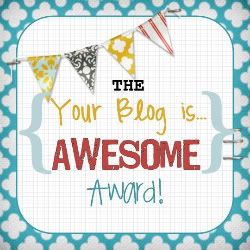 Here is the cute little button I made for the award. :)
Sooo...
The 5 awards for the
"Your Blog is Awesome
" award go to (in NO specific order):
drum roll please...
1. Lauren at
Busy Bee Lauren
2. Elyssa at
Elyssa's Photography
3. Kenzie at
All About Kenzie
4. Kylee at
Life is a Canvas
5. Sereina at
Sereina's Photography
CONGRATS!
If your blog was chosen, you can grab the button and put it on your blog if you would like. You can also award 5 other bloggers the award. It's your choice though. It's just for fun. :)
Thanks for reading & I hope everyone has an
awesome
day.
Yay for blogging!