Now that Valentines Day is over, I needed a new blog "theme". (If ya know what I mean! ;) ) So since Spring is coming our way, and is my favorite season, I decided to go with
this free background and header
from
Adori Graphics
! Do you like it?? Louise has so many great tutorials, freebies, and of course... amazing designing skills!
Oh and I can't forget my other amazing friend who customized my header,
Kenzie from Cute Links For You
! She added the picture and the blog name to my header. (: Thanks again, Kenz!
To visit both of their blogs, either click on the orange links above, or click on the buttons below!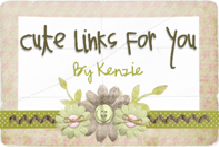 So do you like it? Comment and let me know what you think! (: